Winter Fest Admission Discounts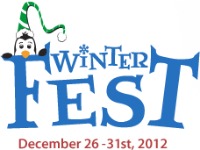 Winter Fest, Milwaukee's indoor winter festival, starts today and runs through New Year's Eve. The festival takes place downtown at the Delta Center (formerly the Frontier Airlines Center).
Winter Fest features more than 50 different activities, rides and attractions including a zip line, roller skating, a Velcro wall, an indoor inflatable driving range, carnival rides, art projects, and much more.
Winter Fest ticket prices are:
Children ages 3 to 17 - $15
Adults 18 and older - $10
Children ages under 2 - Free
The festival is all-inclusive - all rides and attractions are included with admission.
Winter Fest Admission Discounts
There are a couple of ways to save money on Winter Fest tickets. Adults can get free admission on December 26-27 between 10 a.m. and noon.  On December 27, Kids that have a United Way Operation Move t-shirt will receive free admission all day long.
To learn more about Winter Fest including all of the attractions and activities, visit the Winter Fest website.
Comments