2 for 1 Admission to The 2013 Lakefront Festival of Art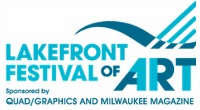 The popular Lakefront Festival of Art takes place Friday, June 21 through Sunday, June 23.
The festival is held on the grounds of the Milwaukee Art Museum and features over 170 jury-selected artists from across the nation.
Admission to the Lakefront Festival of Art is $15. Kids 16 and under are free. Free admission to the Milwaukee Art Museum is included with purchase of a ticket to the festival.
You can save by purchasing a three-day pass for $20. If you are a Milwaukee Art Museum Member, admission is only $8.
Lakefront Festival of Art Half Price Tickets
The Milwaukee Journal Sentinel's DealWatch is running an offer for $15 for two tickets to the 2013 Lakefront Festival of Art.  The deal is available for purchase through June 13 or until 500 tickets are sold. A similar deal was offered last year and sold out quickly, therefore you might want to act fast on this one!
For complete information on festival hours, entertainment, visit the Lakefront Festival of Art website.
Disclosure: DealWatch is an advertiser on Milwaukee Consumer, however this deal is so good we'd post about it even if they weren't!
Comments