Restocked Coupons and an iPad Giveaway from Coupons.com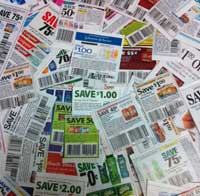 Since we're a few days into a new month it is a good time to check Coupons.com for restocked coupons.  Some of the coupons may also be good to print for double coupon usage at Pick 'n Save or Piggly Wiggly.
Notable coupons currently on Coupons.com include:
Save $.50 on a box of Cheerios
Save $1.00 on two boxes of Kellogg's Nutri-Grain bars
Save $1.50 on a bag of Seattle's Best Coffee
Save $1.00 on any Flintstones Multivitamin product
Save $2.00 on POM Wonderful - any 48 oz. bottle
Plus, Coupons.com is giving away an iPad a day through August 9th!
To enter the Coupons.com giveaway and to browse their coupons, visit the Coupons.com website.
Comments