Last Call to Use Coupons From the 2012 Entertainment Book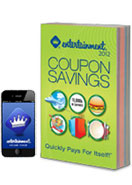 Here is something to keep in mind over the next week as you're out and about - most of the coupons in the 2012 Entertainment Book expire on Thursday, November 1. If there are coupons in your book that you were planning on using, this will be your last chance to use them!
The 2013 Entertainment Book is available to purchase now for $40. Unless you're a hardcore Entertainment Book coupon user, we recommend waiting another month or so to buy your book. Why? Entertainment traditionally starts marking the book down before Christmas. Last December they offered the book for $20 for the first copy and $15 for additional copies. If you can wait, it might be worth it!
(And don't worry…we'll let you know when it is a good time to buy.) 😉
Comments