Boston Store Goodwill Sale September 12 - 29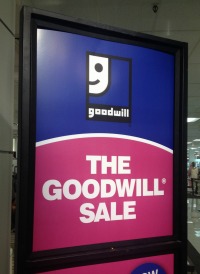 The popular Boston Store Goodwill Sale returns September 12 - 29.  Customers that visit Boston Store and donate a "gently used" clothing or home textile item to Goodwill will receive a coupon for 20% off any item at Boston Store.  (Some items such as cosmetics and fragrances are 15% off).
There is no limit on how many coupons you can receive - donate ten items and you'll receive ten coupons!  As an added bonus, Wednesday, September 12 is double coupon day – receive two 20% off coupons for every item you donate!
In addition to the coupons obtained through making a donation, if you register on the Million Acts of Goodwill website, you will receive a 25% off coupon valid through the end of the sale.  By registering, you'll also have a chance to instantly win a Boston Store gift card and be entered in the sweepstakes for a $1,000 shopping spree.
Comments