52% Off Membership to Angie's List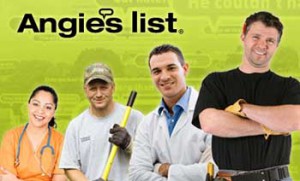 One of today's Groupon offers for Milwaukee is a one year membership to Angie's List for $22.  This is a 52% discount off of the $46 retail price.  Although this deal isn't as attractive as other times Angie's List has been on Groupon, this is still a good value since the service can help you find quality professionals, which may save you time, money, and headaches in the long run.
Angie's List is a website that features quality reviews for more than 500 home and personal services including carpet cleaning, electrical, remodeling, landscaping, dentists, doctors, child care, and more.
Reviews for each service provider come from members, not anonymous users. Angie's List checks these reviews in order to prevent businesses from submitting positive reviews for themselves or negative reviews on competitors.  This is an advantage over free sites on the internet where it's easy for fabricated reviews to be submitted.  Other benefits of subscribing to Angie's List include receiving exclusive discounts from businesses that are ranked on Angie's List as a top-rated business, and access to their free Complaint Resolution Team to help resolve an issue you have with a business.
Important fine print for this offer includes:
Valid only for the Milwaukee area.
New members only.
Must activate subscription by date specified on Groupon
Must provide a credit card number.
Membership will auto-renew if not opted out of.
Visit the Groupon website to purchase a one year membership to Angie's List for $22.
Comments