Welcome to Milwaukee Consumer's 24 Days of Holiday Giveaways 2011!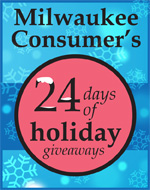 We're happy to announce that we are repeating our 24 Days of Holiday Giveaways again this year between December 1st and Christmas Eve!
We have a lot to be excited about and thankful for this year. We recently celebrated our one millionth page load.  To thank our loyal readers, we have lined up 24 days of giveaways for products, services and events from many great Milwaukee area businesses!
Every day between December 1st and Christmas Eve we will have a new prize and select a new winner!  Some prizes will have multiple winners.
Each day is a new giveaway, so visit this page daily to see the giveaway of the day.
Winners List
12/1 - Sobelman's  - Jimin C. and Molly F.
12/2 - GoGeddit - Rebecca R. and Rebekah F.

12/3 - The Nutcracker - Kory S.

12/4 - Becky's Blissful Bakery - Andrea S.
12/5 - A Christmas Carol - Dawn K. and Jenny T.
12/6 - Wine Cellar of Wisconsin - William G., Sarah P., Elise S., Jon K., and Shannon C.
12/7 - Wisconsin State Fair - Nikki M.
12/8 - First Stage Children's Theater - Peter B.
12/9 - CityTins - Heather R., Scott M., Dani S., Stacey P., Tracey S., Terri L., Christine Z., Melissa P., Robin L. and Carrie K.
12/10 - Betty Brinn Children's Museum - Lynne B.
12/11 - Lasertag Adventure - Bobbie J. and Brian B.
12/12 - Qdoba - Dan S. and Michael M.
12/13 - Offermation - Mandy K. and Mike B.
12/14 - Milwaukee Public Museum - Christine L.
12/15 - Adventure Rock - Heather K.
12/16 - Discovery World - Sarah H. and Lynn Y.
12/17 - Toppers Pizza - Diane H. and Pamela H.
12/18 - Monkey Joe's -Sara K. and Jennifer W.
12/19 - AJ Bombers - Joanne T. and Kim K.
12/20 - Kalahari Resort - Shannon B.
12/21 - StoneFire Pizza - Ann F. and Sarah W.
12/22 - Milwaukee Admirals - Michael W.
12/23 - George Webb - Kerry F.
12/24 - Milwaukee Wave - Gayle B.
12/25 - Groupon - Emily G.
Contest Rules: The Milwaukee Consumer 24 Days of Holiday Giveaways contest runs from December 1-24, 2011. Visitors to Milwaukee Consumer may enter one time a day to win that day's prize. The contest can be entered by filling out the form on Facebook, or by using the entry form on MilwaukeeConsumer.com.  Entry period begins at 12:00 A.M. and ends at 11:59 P.M. CST each day. Contest winners will be randomly selected using Random.org.  Winners will be contacted via email with instructions on how to claim their prize. Contest winner has 48 hours to respond to the notification email. If contest winner does not respond to the notification email, a new winner will be selected. By entering the giveaway, you may also be added to the Milwaukee Consumer email list to be kept in the loop of all of the great deals in our area (don't worry…we don't share email addresses with anyone, and you can unsubscribe at any time). If you're already signed up for our email list, you can still enter the giveaway. A list of winners will be shown on this page. No purchase necessary. Contest is open to residents of the state of Wisconsin only.
Happy Holidays and Thank You for reading Milwaukee Consumer!
Comments