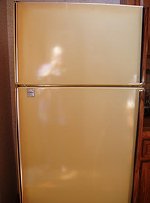 If you are thinking of replacing some of your older appliances, you might want to consider donating your appliance to a charitable organization in the Milwaukee area.
When planning to get rid of a refrigerator, stove, or other appliance, a few thoughts and questions may come to mind:
This appliance still works.  I don't want it to go to waste.
Is it worth my time and effort to try to sell my used appliance through the classified ads or Craigslist?
Is it recyclable?
If I want to donate the appliance, do I have to deliver it to a drop off site?
How much is the appliance worth?  What should I try to sell it for?  If I donate, what is the value for a possible tax deduction?
It can be time consuming to evaluate all the possible opportunities in an effort to find the most optimal solution.  If you come to the conclusion that donating your appliance is best for your situation, here are several non-profit organizations in the Milwaukee area that accept donations of appliances.  Each organization has slightly different guidelines, so we recommend that you call the organization in advance to see if they'd accept your items.
Milwaukee Habitat for Humanity
3015 N. 114th Street, Wauwatosa, WI
414-257-9078
St. Vincent de Paul (SVDP)
SVDP has three drop-off locations
To arrange for a free pickup of larger items, call 414-462-7863
Note that SVDP's donation policy specifies items they do and don't accept
Salvation Army
Schedule a pick up by phone at 1-800-SA-TRUCK
The Salvation Army website specifies items they accept and also has a handy donation value guide to assist donors with tax-deduction information.
Goodwill
Goodwill does not accept large appliances such as refrigerators, stoves, and dishwashers.
Goodwill does accept small appliances.  For complete donor guidelines, including a list of items that they do and do not accept and donation locations, visit the Goodwill website.
Are you aware of any other Milwaukee area non-profit organizations that accept appliances?  If so, please let us know and we'll add them to our list!