Several area Piggly Wiggly stores are offering double coupons between July 14th and 20th.  With this promotion, you can double up to 10 coupons every day for the next week!  Participating Piggly Wiggly stores in Southeastern Wisconsin include Oak Creek, Muskego, Kenosha (all three stores), Racine (all four stores), and Union Grove.  (See the bottom of this post for information about Double Coupon Days at other Wisconsin Piggly Wiggly locations.)
To double coupons, you must present the Double Coupon Days coupon that is found on the front page of the Piggly Wiggly ad.  The ad is available in-store, or the coupon can be printed online.  Piggly Wiggly Double Coupon Days restrictions are as follows:
Up to 10 coupons may be doubled
Valid anufacturer's coupons only
Face value up to and including $1
Minimum $25 purchase required (excluding alcohol and tobacco purchases)
The Piggly Wiggly coupon policy states that they accept internet coupons, however many stores are independently owned and operated and may have different coupon policies.  Therefore, it is advisable to check with your store before visiting.
*If you live outside of the Milwaukee area and want to check to see if your Piggly Wiggly is participating in Double Coupon Days, visit this web page and select your store from the drop down menu.  If the store you select is participating, you'll see the coupon pictured at the top of this post in the lower left hand corner of Page 1 of the ad. 

Thank you to Milwaukee Consumer reader Jessica for tipping us off about this great promotion!
By now, we have all probably seen or heard of the extreme buying that occurs on TLC's hit reality show Extreme Couponing. Whether it be a whole bin of aspirin, a cartload of mustard, or the like, these extreme couponers usually purchase mass quantities of items during the course of a shopping trip. However, is it truly acceptable to wipe out a store's entire supply of an item for yourself? Despite what is seen on the show, there are some unwritten rules of couponing etiquette one should follow to help create a positive couponing experience for all.
Here are the dos and don'ts of coupon etiquette:
DON'T clear out an entire shelf of product: If there are ten, twenty, thirty or more of the same item and you have enough coupons to get them all for free, do not take them all! The obvious exception to this rule is if there are one or two items of product left. Chances are that there are many other people with the same coupon who will want to take advantage of the deal as well. Personally, I have seen this happen on more than one occasion, and each time it has almost prevented me from getting even one of that given item. To give everyone a chance at getting a great deal, following this rule is essential. Another exception to this rule is something you may have also seen on Extreme Couponing. Sometimes people will purchase mass quantities of items that they can get a good deal on and then donate the items to a local food pantry or shelter. This is a wonderful use of couponing! Still, if you are planning to take advantage of a deal in bigger quantities for something like this, make sure to leave some product on the shelves.
DO take only what you need: Before attempting a feat of extreme couponing of your own, ask yourself, "what will I actually use and what will probably go to waste?". Will you actually use 30 containers of Cool Whip before the expiration date? Or will you really get use out of 15 pounds of bananas before they turn brown? My guess would be a firm 'no'. Although you should not be purchasing that high of quantities as stated in the first point, this rule can help you when buying lower quantities as well. Recently, a household cleaner became free when combining a sale and coupon. The Web site where the coupon could be printed allowed for unlimited printing. But did I really need 20 bottles of window or floor cleaner? Absolutely not. That is why I only printed two coupons, and left the deal open for others. A deal is never good if you or someone else never ends up using the products purchased.
DO give coupons to others: Have you ever arrived at a store, started shopping, and realized that there are a few coupons you have decided not to use? If you are positive that you will not be using that coupon in the future, or if it is nearing its expiration date, give the coupon to someone else! Whether it be a family member or friend you know who loves that given product, or someone in a store who is looking at the item you have the coupon for, someone else could use your coupon(s).
DON'T ever be dishonest in couponing: This is a point that deals with etiquette as well as coupon fraud. Never try to use a coupon for an item different than what is listed. This is coupon fraud and is never appropriate. It is not savvy couponing, and causes your local stores to lose money. Put plain and simple: always be honest when using coupons! Dishonest couponers make all couponers look bad, so don't do it!
These are just a few basic tips on how to respect other shoppers when using coupons. By following these simple dos and don'ts, you can help to create a positive couponing experience for those who also want to grab a great bargain. If you have any additional tips on couponing etiquette, feel leave a comment and share them with us!
Related post: Extreme Couponing in Milwaukee with Double Coupons.
In case you missed our Facebook updates from a few days ago, we recently appeared on Today's TMJ4 with Rose from Rose Knows Coupons for a story about Extreme Couponing in Milwaukee.
Extreme Couponing with Vince Vitrano
As a part of the story, we introduced Vince Vitrano to the concept of using coupons in conjunction with sales prices to maximize savings at the grocery store.  We also taught Vince about where to find coupons and how to use our weekly Pick 'n Save coupon matchup to match available coupons to current sales prices.  After teaching Vince the basics of Extreme Couponing, we accompanied him to Pick 'n Save to shop on double coupon day.
The piece that was broadcast last Thursday night was a shortened version of a more complete story that will be aired in a few weeks.  If you didn't see the story, you can view it on the Today's TMJ4 website: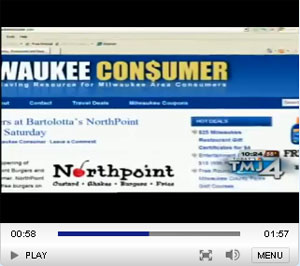 Pick 'n Save Gift Card Giveaway
In conjunction with the Channel 4 story, we're participating in a giveaway of $25 Pick 'n Save gift cards with Rose Knows Coupons.  To enter the drawing, please see our giveaway page.  In addition to entering to win twice on Milwaukee Consumer, please visit Rose Knows Coupons to enter for more chances to win!
To some people, coupon shopping seems like such an inconvenience.  Is it really worth the hassle of clipping coupons, finding items that are on sale and then actually remembering to use the coupons just to save $0.50 here and there?  The answer is yes!  With a little effort, you can easily save 50% or more on your grocery trip each week.  We've compiled a list of five tips to get you started on saving money at the grocery store.
1.  To maximize savings, shop on Double Coupon Day and combine manufacturers coupons with store sale items.
To regular couponers, this tip is a no-brainer.  In fact, it is the cornerstone technique for saving money at the grocery store!  Not everyone realizes that you can combine store coupons with manufacturer coupons.  By using both a store sales price along with a manufacturer coupon on a double coupon day, you'll be on your way to getting items for free like as shown on the TLC show, Extreme Couponing!
Recent example:
Ken's Salad Dressing was on sale last week at Pick 'n Save for $2 a bottle.  By using the $1 off coupon found in the May 8th Smart Source coupon insert, the price was lowered to $1 per bottle.  If you shopped on Double Coupon Day, the $1 coupon would be doubled to $2 off, making the salad dressing free!
2.  Know your store's coupon policy.
This point cannot be emphasized enough!  All of the right coupons on all of the sales items won't make much of a difference if the store won't accept your coupons.  Points to consider:
Does the store accept internet (printed) coupons?
Is there a dollar limit on the amount of a coupon?
Can you use more than one of the same coupon for multiple items?
Does the store accept coupons for free items?
Are there limits on the number of coupons your store will double?
It is important to be aware of your store's coupon policy before shopping.  For the coupon policies at Pick 'n Save and the three Milwaukee Sentry stores that double coupons, see our post: Extreme Couponing In Milwaukee with Double Coupons.
3.  Obtain coupons from various sources.
Of course you can get your coupons from the newspaper, but there are many other good sources for coupons:
Print coupons online from Coupons.com, Redplum.com or Coupon Network.
Like your favorite brands on Facebook.  Oftentimes, companies will offer exclusive coupons just for their Facebook followers.
Look for coupons in the store, either affixed to products or in the blinking coupon dispensers on the shelf.  Many times these coupons are for $1 off, or for a free item if you purchase something else.
Send an email or a letter to your favorite company asking for coupons.  Often you'll receive a response that includes coupons for free items.
4.   Buy the same item for less elsewhere in the grocery store.
Did you know that the same items can often be found elsewhere in the store for less?  Instead of paying $1.25 for a bottle of water at the checkout, go to the water aisle and get a case for $5.  It won't be cold, but the savings will be worth it! Instead of buying prepackaged nuts, check the bulk section of your store.  Cheese in the deli can sometimes be found in the dairy section for less (or vice versa).
5.  Let us do the work for you!
Sites like Milwaukee Consumer, Rose Knows Coupons, and others can help find deals for you.  With our weekly Pick 'n Save ad matchups, we publish the sales items and find the corresponding coupons for the items that are on sale.  We do the work for you!
What suggestions do you have for saving money at the grocery store?  Please leave a comment and let us know!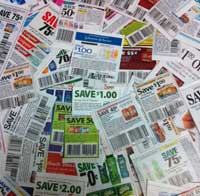 The buzz on the national deal websites this week was all about the new show, Extreme Couponing on TLC.  The show follows shoppers who use various couponing methods to save an incredible amount of money at the register.  One of the key techniques to saving money using coupons is to take advantage of double coupon days at your grocery store.  Luckily in Milwaukee, there are a several stores that offer the opportunity to use double coupons
Pick 'n Save
As the dominant grocer in Milwaukee, Pick 'n Save's Double Coupon Daze is well known to coupon shoppers.  Double Coupon Daze takes place on Wednesday and Saturday (Pick 'n Save eliminated Saturday Double Coupon Daze on 7/9/11). On Double Coupon Daze at Pick 'n Save, you can double up to five coupons (or ten coupons on Double Double Daze) after spending at least $25.  The maximum value of coupons that can be doubled is $1. Pick 'n Save accepts internet coupons except for coupons for free items.
With the five coupon limitation, it would be impossible to turn a $1,000+ grocery bill into $100 or less as shown on Extreme Couponing.  That said, you can still save a significant amount of money by combining double coupons with sale priced items.
Sentry Foods
Sentry Foods stores are all independently owned and operated, so each store has a different coupon policy.  There are several stores in the Milwaukee area that have generous double coupon policies.  As one of our readers, Maggie recently commented, Sentry's "prices are a little higher, but if you watch their sale ad and combine your coupons you can make out like a bandit".
The following Sentry stores offer double coupon days:
Milwaukee Sentry (7101 W. Lisbon Ave.) - Double coupons on Tuesday and Wednesday. No limit to the number of coupons may be doubled.  Maximum face value of $1.  No more than three of the same coupon can be used.  No internet coupons accepted.
Milwaukee Sentry (9210 W. Lisbon Ave.) - Double coupons on Monday and Friday. No limit to the number of coupons may be doubled.  Maximum face value of $1.  No more than two of the same coupon can be used. No internet coupons accepted.
Metcalfe's Market Wauwatosa Sentry (6700 W.State St.) - Double coupons on Wednesday and Saturday.  Up to ten coupons per household, per day may be doubled.  Maximum face value of $1.  No more than three of the same coupon can be used.  Internet coupons are accepted.  (This policy is ending 8/17/11, please see our post Metcalfe's Market Wauwatosa Sentry Revised Double Coupons Policy for more information).
The Sentry stores in Bay View, Menomonee Falls, Waukesha and West Allis do not double coupons.
The key to saving money when using double coupons is to use coupons that are for the maximum acceptable face value (usually $1), and to buy items that are already on sale.  This technique can yield significant savings.  It also pays to stock up on items that are on sale that can be stored until needed.
Are you an "extreme couponer", or do you at least do double coupons on a regular basis?  Please leave a comment and share your experiences with our other readers!