Double Double Coupons at Pick 'n Save on Saturday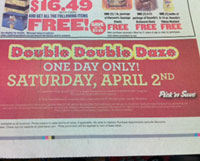 Pick 'n Save is offering Double Double Daze this Saturday, April 2nd.  Instead of doubling five coupons, you can double up to ten coupons!  Only coupons up to $1 can be doubled, and your order needs to total at least $25 prior to the coupons being applied. 
The only official notification of this special appeared in an ad in Thursday's Milwaukee Journal Sentinel.  We talked to a customer service manager at the Hales Corners Pick 'n Save and she mentioned that there is a rumor that Double Double Daze would be repeated every Saturday in April, however this hasn't been announced yet. Stay tuned!
We usually post a Pick 'n Save coupon matchup every Friday from Rose Knows Coupons.   We gave Rose the week off .

 You can find an alternative matchup on Pocket Your Dollars.
Thanks to Milwaukee Consumer reader Renee for the tip on Double Double Coupon Daze!
Comments