Milwaukee Black Friday Shopping Strategies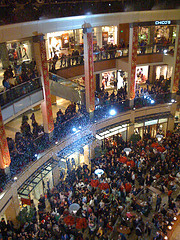 Black Friday is almost here. In my social circles, it seems that Black Friday discussions are just as common as Thanksgiving discussions this year. Bargain shopping on Black Friday has become as much of a tradition as turkey and football on Thanksgiving. Is it worth dealing with the aggravation of shopping on Black Friday to save a few (or more) bucks?  For some people, yes, for others, no.
If you plan to participate in this event, we have some suggestions to help maximize your efficiency and maintain your sanity.
Plan Ahead
If you haven't already identified the items you plan on buying on Black Friday, now is the time to do it. The Thanksgiving paper is a good resource, but there are many websites that have ad scans available. Check out BFAds.net for a complete list.
Although I recommend making your list in advance, I still suggest getting the Thanksgiving newspaper. The paper is good to have on hand to review the ads, have something to take with you on Black Friday, and for bonus coupons that might only be in the paper.
Go on a Recon Mission
The best way to plan ahead is to visit the stores you'll be targeting on Black Friday in advance.  By going early you can see where the items you're targeting will be located. Don't think that because you know where the electronics department is, that that is where your TV will be. Often times retailers will place doorbuster items in other areas of the store.  If everyone else is running to electronics when the door opens, and you know that the item is located in the clothing department, you'll be in good shape.
Get in, Get out
The only thing worse than waiting in line to get in a store on Black Friday is waiting in line to get out of the store. Your best strategy is to grab the items you're targeting and check out immediately. Sure, you'll be at Walmart and Target and might need to pick up some stuff for around the house. Today isn't the day to do it. Get your items, and get out.
Work in Teams
If you have friends or family members who like to partake in the Black Friday madness, team up with them.  When two or more people are working together, you can become more efficient shoppers. Combine your lists and meet in the checkout line.  While one person waits to check out, the other can continue to shop around the store. Or, your shopping partner can go to the next store and start finding items there.
Comparison Shop Online
Online retailers like Amazon.com
have gotten in on the Black Friday action by offering deals that rival brick and mortar stores.  Before dealing with the aggravation of shopping on Black Friday, check prices for the same items Amazon. You may be able to do all of your Black Friday shopping from the convenience and comfort of your home. Some retailers such as Walmart and Best Buy have been known to offer some of their doorbuster items online as well as in store.
Do you shop on Black Friday, and if so what are some of your strategies? What are some of the items that you will be targeting this year?  Share your experiences and suggestions with other readers by leaving a comment.
Comments