Wisconsin State Fair - 2012 Admission Promotions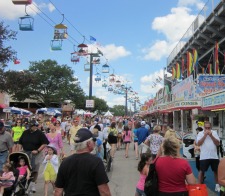 The 2012 Wisconsin State Fair starts Thursday, August 2 and runs for 11 days through Sunday, August 12.  There are several opportunities for free or reduced State Fair admission if you plan ahead.
Regular ticket prices for the 2012 Fair are as follows:
Adult (12 & over) - $9
Seniors (60 & over) & Military/Veterans with ID  - $6
Youth (ages 6 - 11) - $5
Children (5 & under) - FREE
Parking on the Fair grounds is $10.  Free street parking is available in the neighborhoods surrounding State Fair Park, however it usually isn't easy to find an open spot.  You can typically find a lawn to park on for $5 or so within a couple blocks of an entrance.  The largest concentration of lawns to park on is in the neighborhood west of the Fair grounds.
Drawing For Free Tickets
If you haven't entered our daily drawing for free Wisconsin State Fair prize packages, there is still time to do so.  Each State Fair prize package contains a family four-pack of Fair tickets, a three-pack of Cream Puffs, and a Fair Deals Bargain Book. We're drawing a winner each day for the 10 days preceding the Fair.
Discount Admission Promotions During the Fair
Hunger Task Force $4 Day - Thursday, August 2nd
On opening day, August 2nd, receive $4 admission with a donation of two non-perishable food items or a cash donation to the Hunger Task Force.  This offer is valid from 8 a.m. until 6 p.m. at all Fair admission gates.  Check out more information about Hunger Task Force Day on the State Fair website.
Discover Wisconsin Day - Friday, August 3rd
On Friday August 3rd, non-Wisconsin residents can receive two admission tickets for $10 by showing their out-of-state drivers license at the ticket windows.
Weather Tight $6 before 6 p.m. Deal  - Monday, August 6th
On Monday, August 6th, receive $6 admission from 8 a.m. until 6 p.m. by presenting a coupon from Weather Tight.  The coupon can be found on the Weather Tight website.
Kohl's Family Value Day - Tuesday, August 7th
On Tuesday, August 7th, from 8 a.m. until 6 p.m. adults will receive admission for the youth price of $5 (a $4 savings), and youth ages 11 and under will receive free admission.
U.S. Cellular $5 After 5 p.m. Day - Thursday, August 9th
After 5 p.m., on Thursday August 9th, receive admission for only $5 with the coupon available on the U.S. Cellular website.
Miller High Life Veterans and Military Recognition Day - Sunday, August 12th
Veterans, active duty military personnel, and their families will receive free Fair admission on Sunday, August 12th.  Eligible individuals should present their Military ID (DD214,VA ID, Military Common Access Card, or Dependent ID) at any admission entrance and receive free admission for themselves and up to three family members until 4 p.m. courtesy of Miller High Life.
For full information on these promotions and the most complete information on the Wisconsin State Fair, visit the official Wisconsin State Fair website.
Comments