National Grilled Cheese Day: Free Grilled Cheese at Melthouse Bistro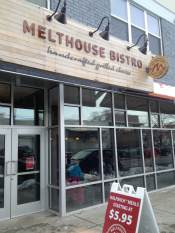 Did you know that Friday, April 12 is National Grilled Cheese Day?
It really is (I looked it up).
To celebrate this fantastic day, Melthouse Bistro is offering free grilled cheese sandwiches! All visitors that bring two non-perishable food items between 2:30-4:30 will get a free Cheesehead sandwich! The Cheesehead features Wisconsin provolone, aged sharp cheddar, and muenster cheeses, with pesto on whole wheat bread.
Melthouse Bistro is located at 1857 E. Kenilworth Place on the East Side.
Unrelated, but worth mentioning…
If you're a fan of grilled cheese, check out the 100% cheese grilled cheese sandwich that our friend Nick from DudeFoods recently made. The sandwich replaces boring old bread with bread cheese, turning it into a sandwich made entirely out of cheese! The sandwich was so popular that it was featured on Bon Appétit, the Huffington Post, Gawker, and The Cooking Channel!
Comments