$15 Off Valvoline Oil Change Coupon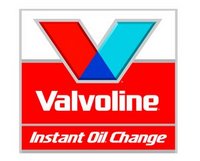 Click here for a printable coupon for $15 off a full service oil change at Valvoline Instant Oil Change that expires on December 31, 2009.
Using Coupons.com is easy - you'll just need to install free Coupons.com software before you start printing coupons.  It does not require personal information, and has no spyware, trackware, or adware.  You can easily uninstall the software at anytime.
We contacted Valvoline in Brookfield and a standard oil change starts at $36.99, so with the coupon you're looking at a cost of $21.99 before tax.  The coupon states that it is "valid at participating locations", so you might want to call ahead to make sure your local store accepts the coupon.

Milwaukee area locations:
Brookfield, 600 Woelfel Rd. (262) 782-3700
Cudahy, 5912 Packard Ave (414) 769-8547
Delafield, 2325 Sun Valley Dr. (262) 646-5640
Germantown, N96W18594 County Line Rd. (262) 502-0903
Glendale, 6100 N. Port Washington (414) 964-8370
Greenfield, 8008 W. Layton Ave (414) 281-7868
Greenfield, 4839 S. 27th St. (414) 282-5544
Kenosha, 106 3015 52nd St. (262) 654-2226
Milwaukee, 7028 W. Capitol Dr. (414) 464-0277
Milwaukee, 10014 W. Silver Spring Dr. (414) 464-2288
Milwaukee, 3360 S. 27th St. (414) 645-1946
Milwaukee, 8718 W. Brown Deer Rd. (414) 355-7880
Milwaukee, 2021 W. Silver Spring Dr. (414) 228-9093
Milwaukee, 1232 W. Layton Ave (414) 281-4445
Milwaukee, 1700 E. North Ave (414) 273-2500
Milwaukee, 112 S. 68th St. (414) 258-0777
Pewaukee, 1812 Silvernail Rd. (262) 549-5823
Racine, 5920 21st St. (262) 553-1344
Racine, 3101 Rapids Dr. (262) 637-8930
Sussex, N65W24922 Hwy. V V (262) 820-3060
Wauwatosa, 1935 N. Mayfair Rd. (414) 774-2424
Waukesha, 1951 Main St. (262) 524-8484
Waukesha, 922 W. Sunset Dr. (262) 542-2240
Waukesha, 832 E. Moreland Blvd. (262) 521-9897
West Allis, 3101 S. 108th St. (414) 545-9010
Comments