Sports Authority stores throughout the area have Green Bay Packers Super Bowl and NFC Championship clothing marked down 75%.  If you haven't done so already, now is the time to get some Super Bowl merchandise celebrating the Packers win!  We visited the Greenfield location and there were literally hundreds of shirts and sweatshirts for adults and children available. 
Prices are as follows:
Youth Short Sleeve T-Shirts - $3.97 (originally $16)
Youth Long Sleeve T-Shirts - $4.97 (originally $18)
Adult Short Sleeve T-Shirts $4.97 (originally $20)
Adult Long Sleeve T-Shirts - $5.97 (originally $22)
Adult Sweatshirts - $12.97 (originally $50)
Only Super Bowl and NFC Championship Packers clothing is on sale.  Regular Packers shirts and jerseys are not included in the sale.  Also not included are collectables such as photos, mugs, pennants, etc.  Although we shopped the Greenfield Sports Authority, the same sale is available at all Wisconsin stores.
A&W Restaurants will be offering the Jennings Burger for $0.85 today in celebration of the Packers Super Bowl victory and Greg Jennings two touchdowns!  The Jennings Burger is another name for their Papa Burger Single, which is a cheeseburger topped with lettuce, tomato, onion, pickles and the A&W Papa Sauce. 
Participation in this offer varies by location.  There are four A&W's in the Milwaukee area - Hales Corners, Southridge, Oak Creek & Franksville.  Only the Oak Creek and Franksville locations are participating.  The Southridge location has a limited menu and only serves hot dogs, and the Hales Corners location rarely participates in company wide promotions (boo to them!).  Check out the A&W Facebook page for more info.
Don't forget about the Kemps free ice cream offer, valid today only!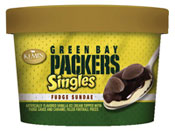 Kemps Ice Cream is a sponsor of the Green Bay Packers and has pledged to give away a free Kemps ice cream sundae to the state of Wisconsin if the Packers win today's Super Bowl. According to the Kemps Facebook page, if the Packers win, a coupon will be available to print out for a free Kemps Green Bay Packers Singles Fudge Sundae.  Further details of the giveaway are not known, but Kemps says to "stay tuned to Facebook for details".
Thanks to the Bargain Sleuth for the heads-up on this deal!