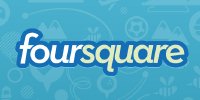 Foursquare, a rapidly growing social networking site, is also a way to find special offers at businesses around the Milwaukee area.
What is Foursquare?
Foursquare states they are a "cross between a friend-finder, a social city-guide and a game that rewards you for doing interesting things.  We aim to build things to not only help you keep up with the places your friends go, but that encourage you to discover new places and challenge you to explore your neighborhood in new ways."
How does Foursquare work?
Users "Check-in" at a location by using their smart phone or by sending a text message from their cell phone.  After checking in, Foursquare awards points and occasional "Badges" to users.  If a user has checked-in to a location more than anyone else, they will become Mayor of that location.  Users can also share "Tips" with other users, and create "To-Dos" as suggestions for yourself.
Special Offers in the Milwaukee Area
There are currently over 40 offers available in Downtown Milwaukee on Foursquare, and many other promotions are available throughout the metro area.  A handy way to see all of the offers available on a map is to visit 4SquareOffers.com.  Some of our favorites that we found include:
Antigua Latin Restaurant - Complimentary drink of choice after third check-in. Complimentary appetizer or dessert for the Mayor.
Crawdaddy's - Free Crawdaddy's Hurricane on your first check-in.
Fire on Water - Free tap beer on your first check-in.
Kenadees Ultra Pub - Receive a free shot of the bartenders choice.
Leff's Lucky Town - Free pint of Miller Lite or Miller High Life with every 5th check-in.
Molly Cool's Seafood Tavern - Free rail, house wine, tap beer or soda every five check-in's. Free drink for the Mayor.
Old German Beer Hall - One Free .5L of beer when you check in three times in five days.
Rock Bottom Restaurant & Brewery - Buy one get one free beer with every check-in.
The Iron Horse Hotel - 50% off your first drink at Branded or The Lobby. The Mayor gets 50% off their first round (at Branded or The Lobby, 6 drink max.)
Here is our list of this week's Milwaukee radio stations half-price dining, recreation & services deals that will be going on sale Friday morning.  To read about the other deals that went on sale on earlier in the week, see our post from Tuesday.
As we wrote about yesterday, you can get free admission to over 300 museums nationwide if you are a Discovery World Museum member.  Included in the list of museums that offer free admission are the Museum of Science and Industry, the Adler Planetarium, and the Field Museum of Natural History in Chicago.  To make this offer extra sweet, you can a family membership to Discovery World for half price by taking advantage of this week's deal being offered by 99.1 WMYX, 103.7 Kiss FM and Sportsradio 1250.
99.1 WMYX, 103.7 Kiss FM, Sportsradio 1250 - Antigua Mexican and Latin Restaurant, West Allis.  2 - $25 gift certificates for $25.  On sale 12:00 Noon on Friday.
99.1 WMYX, 103.7 Kiss FM, Sportsradio 1250 - Discovery World Museum, Milwaukee.  1 year family membership for $37.50.  On sale 12:00 Noon on Friday.
99.1 WMYX, 103.7 Kiss FM, Sportsradio 1250 - Twisted Cuisine, Kenosha.  $50 gift certificate for $25.  On sale 12:00 Noon on Friday.
Each of the promotions have restrictions, so check out the links above before purchasing.