After all this cold weather we've been having, wouldn't it be nice to get away for a vacation?  According to consumer expert Clark Howard, discount airlines always start off the new year with fare sales.  From what we've seen, these fare sales usually don't last long, so you need to act fast. 
For example, Frontier Airlines announced a fare sale on January 18th but you must book a flight by today, January 20th.  Fares are as low as $49 (one-way) from Milwaukee to cities such as Pittsburgh and Minneapolis/St. Paul.  While you're searching for flights, Frontier advises that you'll find the best deals on Tuesday and Wednesday flights. 
Howard also predicts that hotels will likely have deals and promotions throughout 2011, which will help make your travel more affordable if you plan properly.
If you're considering travel plans, you can be alerted to these fare sales by signing up for email distribution lists from the major discount airlines that fly out of Milwaukee including Frontier, Southwest Airlines,  and AirTran.  (Southwest Airlines has proposed to acquire AirTran.)
Are there any other tools you like to use to watch for cheap airfare out of Milwaukee?  If so, please leave a comment to share with our readers.
Megabus.com is giving away 200,000 free tickets valid for travel this winter.  Each route has a limited number of free tickets available.  Once the free tickets for each route are gone, remaining seats will be available starting at $1.  Use the promotion code WOW200K when booking to have a chance at the free fares.  More details about this promotion can be found on the Travelzoo website. 
Megabus is located in 50 cities in the US, including stops in Milwaukee, Madison, Chicago, and Minneapolis/St.Paul.  Megabus features double-decker buses with free Wi-Fi, on-board restrooms, comfortable reclining seats and more. Visit Megabus.com for information more information on routes, schedules, and fares and to book this great deal.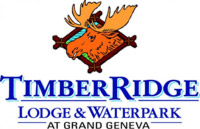 If you're looking for a fun getaway this fall, Timber Ridge Lodge & Water Park at the Grand Geneva Resort in Lake Geneva is a quick and scenic 1 hour drive from Milwaukee.  Through 12:00 noon on Sunday, Timber Ridge Lodge is having a 99-hour $99 sale.  This special rate is available for one-bedroom suites Sunday - Thursday nights during October, or any night of the week during November and December.  Two-bedroom suites are available for $149 a night.  The regular price of these rooms is $149 for the one-bedroom suite and $249 for the two-bedroom suite.
There are certain blackout dates, which can be found on the Timber Ridge Lodge & Water Park website.  Reservations can be made by calling 866-636-4502 or by visiting their website.  Special code TREBLAST must be mentioned to receive this special rate.
Frontier Airlines just announced a new fare sale with one-way prices from $39 to $179.  One-way prices on the lower end of the range include:
Branson $39
Minneapolis/St. Paul $49
Omaha $54
St. Louis $54
Kansas City $59
Boston $74
New York (LaGuardia) $74
To receive these special prices, you'll need to purchase a ticket by September 17th.  A 14-day advance purchase is required, and travel is for Monday to Saturday through December 15th.