Resources for Tree Damage Services in Milwaukee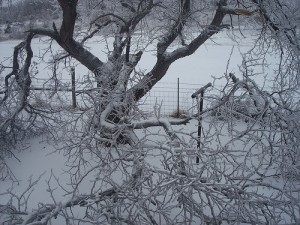 The recent snowstorm we had in the Milwaukee area on December 8th and 9th led to a lot of tree damage, especially evergreens.  In an article on JSOnline reporter Joe Taschler wrote that experts state that it is not a good idea to knock snow and ice off trees that are bent to the ground, as it could cause even more damage.
If you are in need of an arborist or a service to clean up damaged trees, there are several resources you can consult to find the contractor that is right for your situation.  Here are a few ideas:
Angie's List

- If you subscribe to Angie's List

you'll receive access to local reviews and live support from their company.  If you have a bad experience with a contractor, you might be able to utilize their free Complaint Resolution Team to help resolve your issue.  An advantage of Angie's List

is that all reviews are checked in order to prevent businesses that try to submit reviews on themselves or negative reviews on competitors.  This is a big advantage over free sites on the internet where fabricated reviews can easily be submitted.
Craigslist - Consult the Milwaukee Skilled Trades page on Craigslist.  Advantages of using Craigslist is it is free and it's easy to navigate the website to find services for tree removal, tree pruning, etc…  However, the downside is that there aren't any pre-screened reviews and you may need to take extra care in how you select your contractor.  At the top of the page on Craigslist there are links to articles such as "When does your contractor need a license?", a reminder to ask for references, and articles on personal safety tips and avoiding scams and fraud.  Be sure to read these if you are selecting contractors using Craigslist.
Service Magic

- Service Magic

is a website that provides free matches to pre-screened service professionals, such as arborists.  The Service Magic

website also has articles on tree trimming advice, including the best time to trim, basic trimming suggestions, and trimming safety (most important -  you should never trim trees on a ladder.  Instead, you should secure yourself to the tree from at least two points using a harness and ropes).
We also recently asked our Readers Panel for their advice in selecting contractors.
Suzette said "When my husband and I need services around our home, our first line of resources are recommendations from friends, co-workers, or friends of friends. Many times this is through conversations but I have also sent out emails asking for recommendations."  She finds that on websites one can usually find good and bad information about each contractor, and prefers to dig deeper to ask about contractors, including their personality.  Suzette also wisely states "It just isn't about price and doing the job. It is about price, time, and quality. They are interelated and usually effect each other."
Renee responded stating when she needed some work done around the house such as landscaping, she used a free group on Yahoo! called Milwaukee Cafe.  The group is fashioned after the Milwaukee Freecyle group.  Renee stated "I found a great handyman who charges me $8/hour and has done a fabulous job helping me out."
Do you have any suggestions on where our readers can turn if they need a contractor to help them cleanup tree damage from the storm?  If so, please feel free to leave a comment.
Comments